Fossil watches. It's not really the type of watch one associates with watch collecting. However, if you have a look at their designs, they are quite classy and on point. Better than some of the more established watch brands. The designs are so good in fact that many of them sell out. That's right. Sell.Out. Of course, there is also the argument that they're a fashion brand so they aren't going to produce a lot of something if it's just going to be out of fashion next season. Well, yeah, but stick with me.
Many of their designs are based on proven yester-year styles and of course, the whole 'vintage' look these days is always in. However, up until quite recently, they've only dabbled in the value-oriented, quartz powered watch category. No longer.
At Baselworld they presented the Swiss powered range. And true to their design language the first model off the rank is a classic looking watch, simple time only with date, (with the date wheel colour matching the dial!) clean and no-nonsense with choice of strap or bracelet. At 38mm in diameter it might be considered on the small side in today's size-obsessed world, but 38mm is quite easy to pull off and it is a very versatile size. There's really nothing to not like about the watch, apart from maybe the price, starting at US$895.
The only problem is that people may not be willing to spend that kind of money on a Fossil branded watch, even if it has higher Swiss made quality. Ah, the joys of trying to take a brand upmarket! However, a realistic 'street' price could bring it down to around the $5-600 mark would make it a lot more reasonable, but we shall see how they go.
Movement is the Swiss automatic STP caliber 1-11 with 26 jewels, 28,800 vph and a power reserve of 46 hours. (Yeah I don't know them either, but going off the images the movement looks like an ETA2824 clone)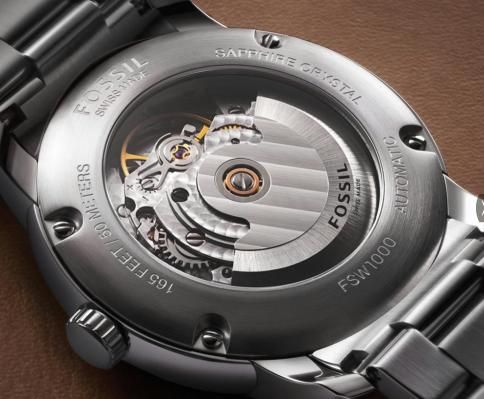 I believe that there are talks regarding the quality being not quite up to scratch for a supposedly Swiss made product, so perhaps a proper hands-on experience is needed to better judge the product.