It was only a matter of time (pun intended) for speedster Lewis Hamilton to drop in at the IWC factory in Schaffhausen, after being confirmed as an ambassador alongside Nico Rosberg from 2013 onwards, thanks to the partnership between IWC and Mercedes AMG Petronas F1 team. Nico was featured heavily during IWC's SIHH party in January this year, simply because there probably wasn't enough time to get Lewis sorted, contractually and legally and who knows what else. It's also a great year that IWC jumped on board with Mercedes AMG as they're having a stellar year in F1, with Lewis's seemingly crazy move not so crazy after all.
PHOTOPRESS/Samuel Truempy
IWC has also been very clever in their product placement for the drivers. The watches probably won't withstand the sort of G forces you get in a F1 car, so they've plastered a big watch pic on the driving gloves, so whenever you get a "driver's view" camera shot, you can see the watch very clearly and prominently in the middle of the screen.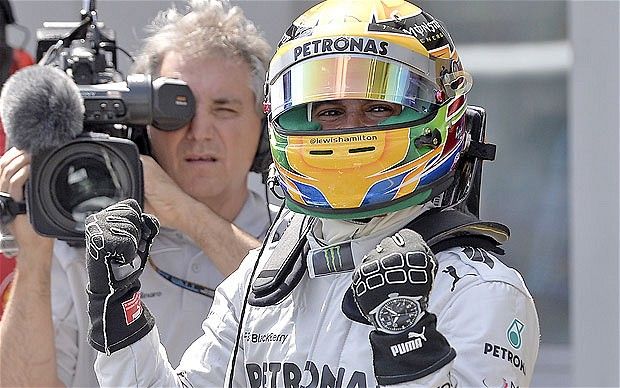 PHOTOPRESS/Samuel Truempy
Lewis's travelling itinerary is pretty hectic already. But he found the time to pop into Schaffhausen on the way from Monza to Singapore last week. Apart from the mandatory posed happy snaps which reveals nothing at all, a speech and a demo run on the simulator, what I guess all the watch nuts really want to know is, after visiting both the Tag Heuer factory (during his time at McLaren) and IWC factory, what does Lewis really think of the two watch brands? I doubt we'll ever get anything on record, but I think that's one thought I'd pay a very pretty penny for. Maybe even two...