JLC seemingly can do no wrong in recent years, bring out one winner after another. For me personally, it's great to see JLC returning to the classic designs for their Master range (although some might say boring) after their period of… let's just say… "adventurous" designs of the early to mid 2000s. This period does have its fans no doubt as people warmed to the unsymmetrical yet balanced designs of the Master Hometime, the Master 8 Days and the World Geographic to name but a few. It was almost as if JLC wanted to do wacky layouts just because they can.
However, timeless designs are exactly that- timeless. Wacky layouts might be in vogue for a few years, but classic, timeless layout will remain in style over numerous fashion 'cycles'. This brings me to the new Master Calendar.
The previous iteration was extremely well received and for me it was one of the most successful 'wacky' dials. How successful? They kept it on range from 2005 till now. And according to a couple of my favourite ADs they still sell like hot cakes. That's an 8-year model run. The only thing that was slightly off-putting was the placement of the logo and brand. To me, the brand should always be front and centre, and to relegate it to a weird, 8:30 position is just not on. (this is my marketing 101 talking) To be honest I do see a spot at 12:00 for the logo and brand, even if it'll be a bit squished. I think that would still be better than the offset position. But if this previous version sold faster than One Direction dolls to teenage girls, then the new one will be out the door in much less than 60 seconds.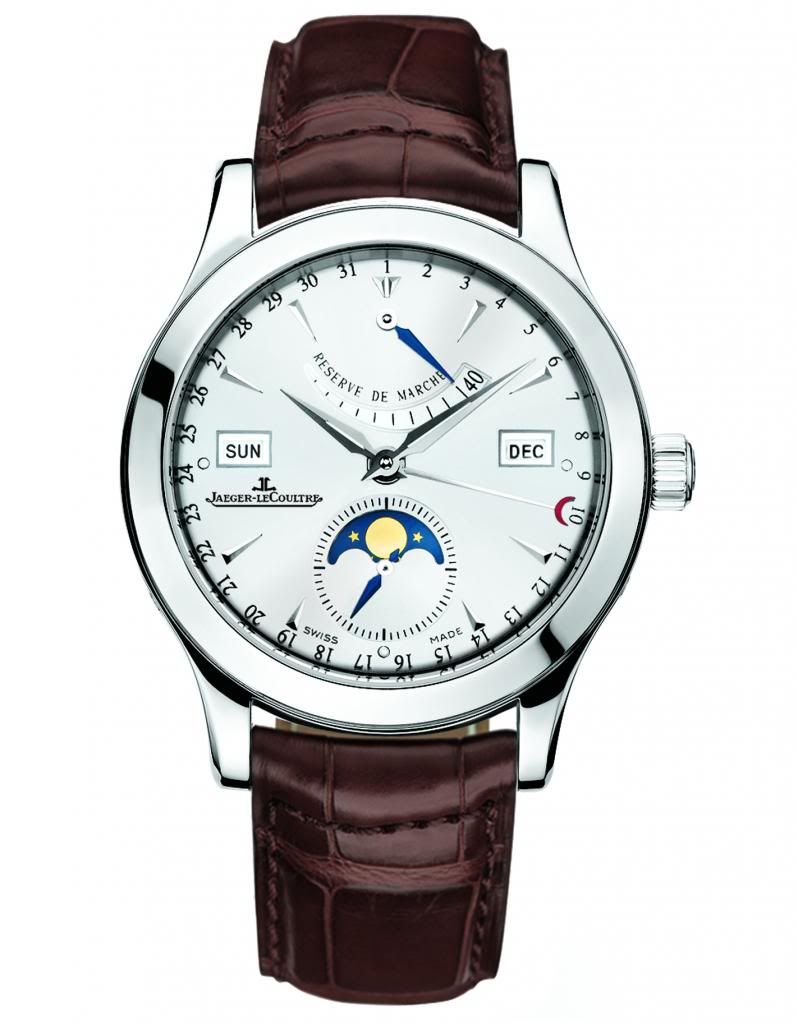 Master Calendar (Just superseded)
The new Master Calendar, at first glance, will remind you of the Master "Moon" from the mid 90s and a lot of the "triple-date moonphase) watches from eras past. It is a very classic layout- with day and month up top, moonphase and seconds at 6:00 and date around the edge of the dial. The dial is extremely balanced, the case size shrank back to a dressier and manageable 39mm, (but bigger than the 37mm of the Master "Moon") and at a height of only 10.6mm, also extremely wearable. It'll fit under the cuff no probs. They've attached a new calibre number to this watch, but to me it looks like the same movement as the previous Calendar with repositioned day-month window and minus the power reserve indication.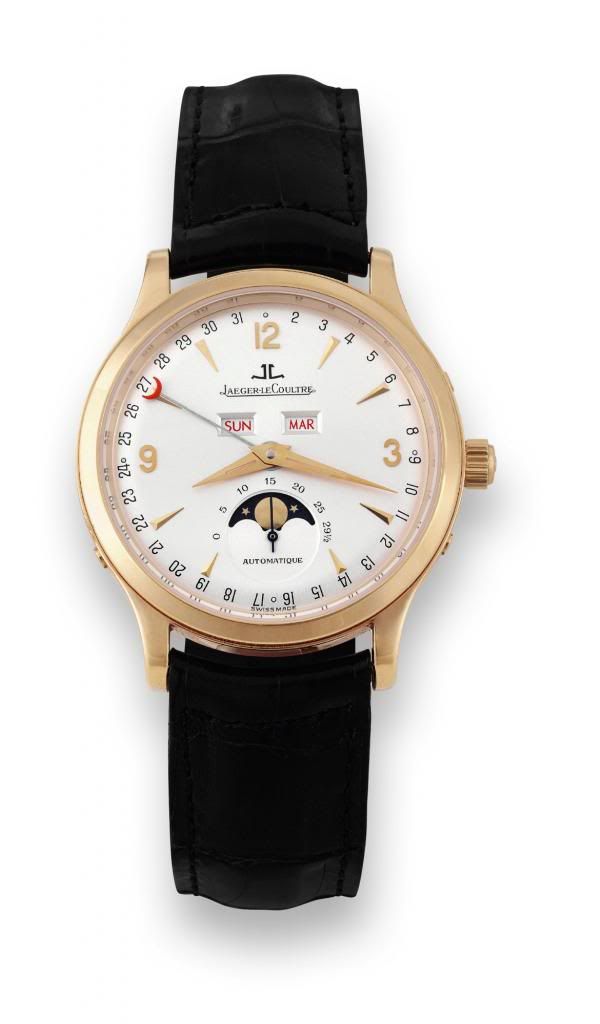 Master Moon from a while back
Classic design and classic proportions makes it an instant classic (especially in the sultry rose gold) and if the whispers of the price point I hear are true, the queue outside your favourite AD for this piece could just match the one for Air Jordan XI Retros.