Rattrapante. Split Second Chronograph. Double Chronograph. No matter which way you say it, practically speaking, it's a pretty useless complication to have on your mechanical watch. Tell me, when was the last time you need to time the difference in seconds (up to 60) of two separate things? I suppose you could use it to time 2 eggs. If you put them in the water at different times. But then again I'm not even sure how that would work.
The other way you'd use it, practically speaking, is you're timing laps. You use the split second function to stop it temporarily as you note down the time for the first lap, then let it catch up again and then repeat. So this will come in handy if you're watching formula one. Then again, maybe not.
But it is such a nice complication to have. To watch the two running chrono second hands going at different times, it's just so cool. Watching it catch up and the two hands runs again in sync. It's a lot of fun to watch. Much like staring at a tourbillon. Plus, rattrapante complication is quite rare. Rarer than tourbillons. And minute repeaters. And they're not easy to make either, so there's some bragging rights in that too. Somewhere.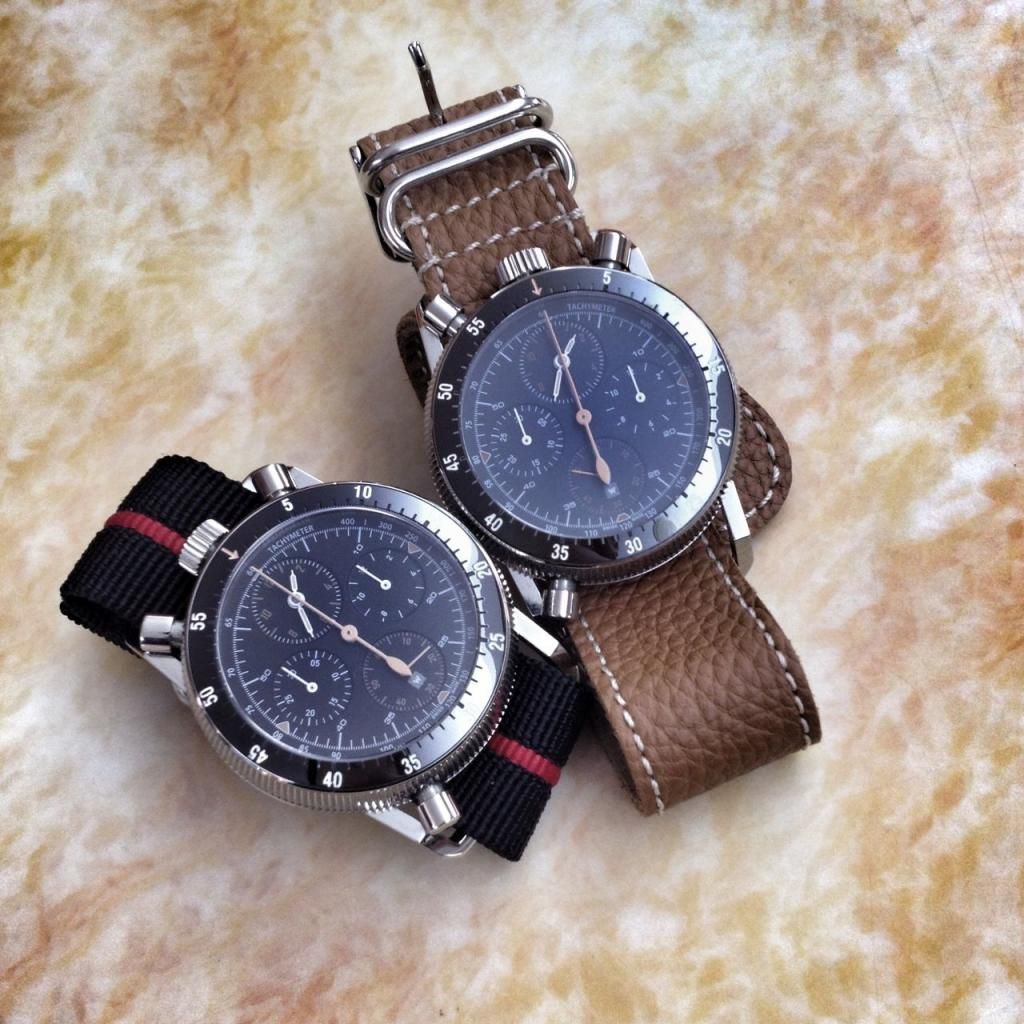 Can you tell the difference between the black dial and the blue dial??
Which makes this watch all the more special. TNT, the company famous for being able to find obscure, long-forgotten movements, and put them into limited edition runs, produced this 75-piece series of rattranpante chronograph watches, exclusive for members of the forum watchuseek.com. The movement is based on the valjoux 7750, with the added rattrapante module and this movement is quite possibly the most popular to base the extra complications on, simply because it is so robust and reliable. Omega has done one with this movement, same with Rado (probably with the exact same movement). IWC also did one, again based on the Valjoux and I believe Chronowiss also had one. Just to name a few. And they're all priced quite high- from $5000k onwards.
I really don't know how TNT manages to track down these movements nor do I know how they can then get them all serviced, turned around with a case and dial and what not, and sold all for around 800 Euro. But I'm glad they did and I'm glad that watch enthusiasts in Australia managed to snag 2 out of the 75 examples (that we know of) and that I had a chance to get a really good look.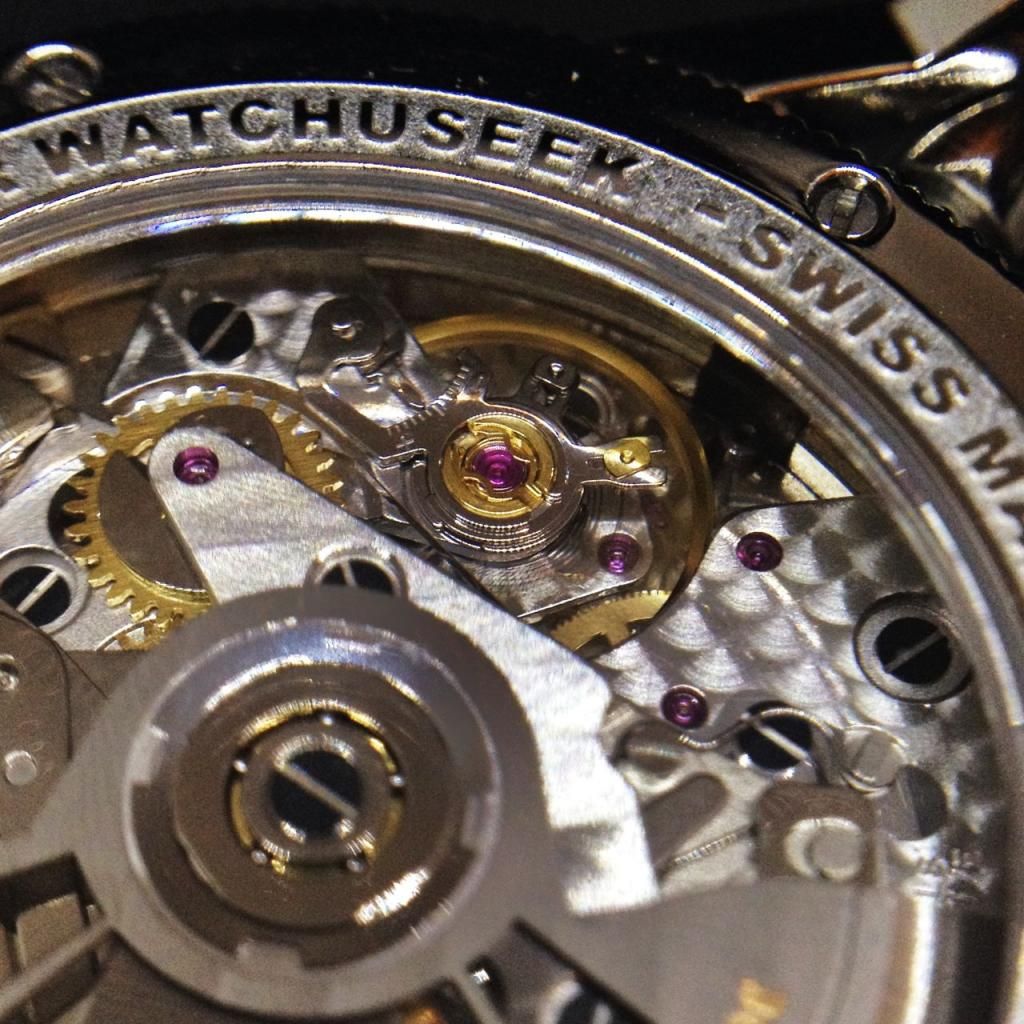 Reliable Valjoux 7750 movement with the rattrapante module
The coin-edge bull head case is shared with a few other models that TNT is producing, which is to be expected for economies of scale reasons, but the dial and function is exclusive to this watch. There is also zero TNT branding on the dial (with just a subtle watchuseek logo at 6:00 position). I'm not sure why they went for the bull head design. Yes, it's different, and you won't have pushers and crowns digging into the wrist, but with the configuration it has, the pushers are very close to the lugs, making the operation a little inconvenient. The pushers also travels a long way before engaging with the movement, which can annoy some people. It's also a little difficult to wind the crown or to set the time, again, due to its position. I suppose each person will find it different, and some might choose to live with the small inconveniences in order to have something quite unique.
The dial is split into 4 smaller dials, one each for the chronograph functions and the time. Yes, the time is limited to the small dial at 12:00 and for those with less than perfect vision, telling the time might be a little strenuous. But it's not the only watch with a small dial for the time (I'm looking at YOU, Jacquet Droz) so this shouldn't detract from the watch as a while, and it does give a very balanced dial overall.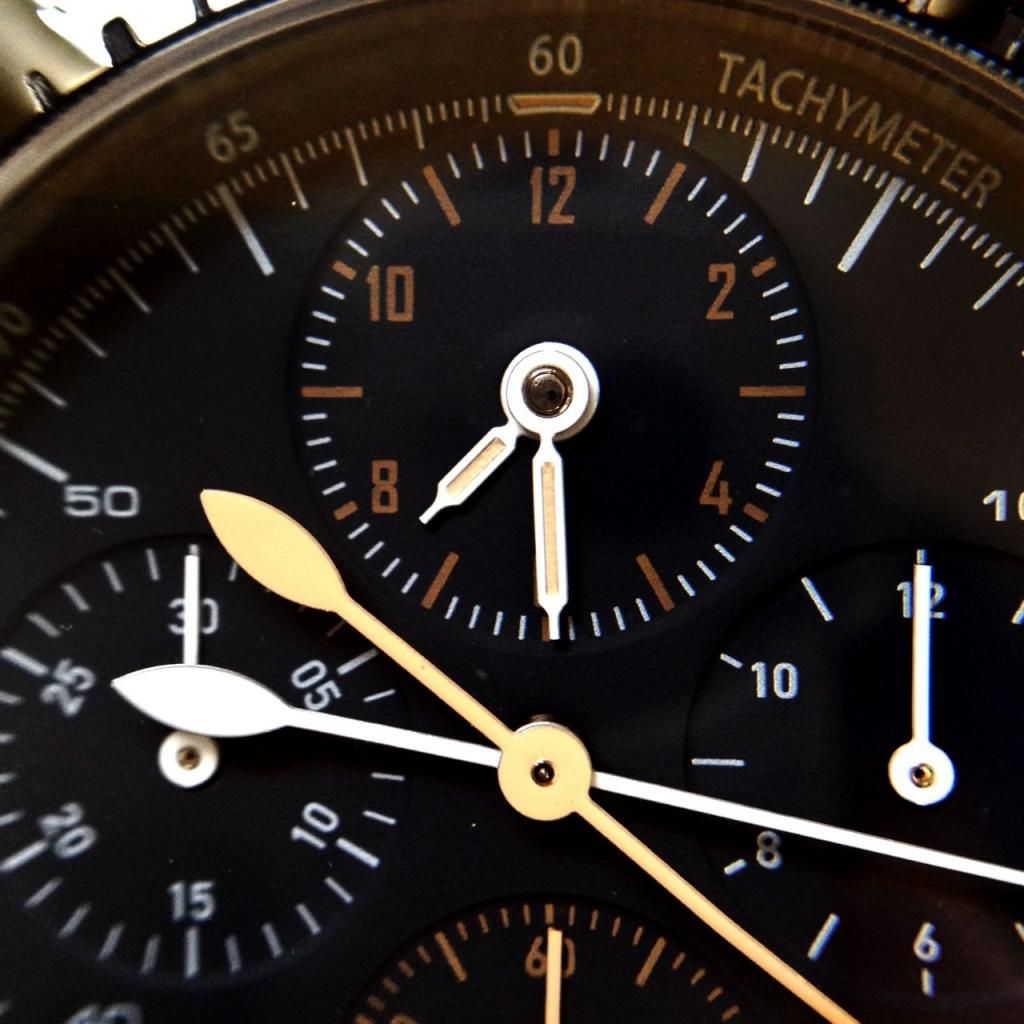 Small dial at 12:00 for the time
For the price, the quality and the finishing is excellent. Keep in mind that this is an 800 Euro watch so it needs to be compared like-for-like. It doesn't matter if the movement and complication is worth more than 800 Euro on its own. So, next to say, Tissot, Oris, or even Longines, the quality stacks up, but comes up short if you compare it to something a bit further up the food chain. Otherwise, you get sapphire crystal front and back, as well as a very nicely done ceramic bezel. The less said about the included NATO strap the better, but the optional leather strap is soft and supple.
I didn't get the chance to time it, but I'm sure accuracy won't be too bad. It is a 7750 after all, and any good watchmaker will be able to regulate it to chronometre specs. The watch although thick, wears very well on the wrist and it is very comfortable. I wouldn't pair it with a suit, but again that's up to you. Two dials are available but having seen the two side by side the difference isn't great. The black dial is not very black and the blueberry dial isn't very... blue. But who's to complain? It's a great looking watch, a fun complication and a very, very limited edition to boot. It's a great watch for not a lot of outlay and for the 75 people (or less - I believe some bought two) who has them, it's definitely a keeper.