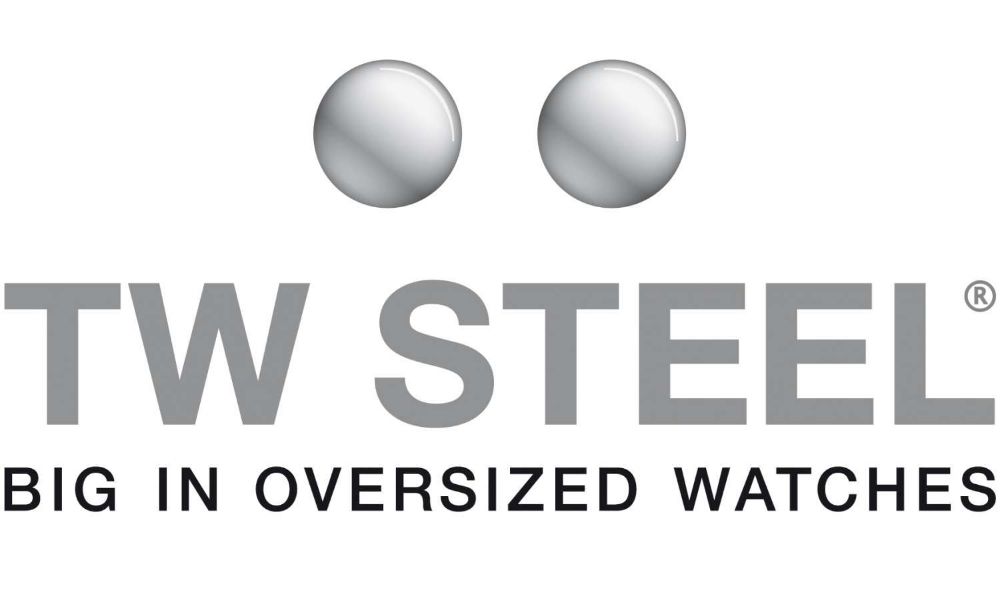 As you probably all know, marketing doesn't come cheap. Building a brand up from nothing, now... I shudder to think what that would cost. And the cost is not only associated with dollar signs. It's also time, effort, manpower... it's a lot of things. Which is why it's all the more astonishing what TW Steel has managed to do with such a short space of time. How short, you ask? It's less than 10 years. There are older watch brands that does not have as much brand recognition and reach. Their watches are now available in over 100 countries and around 5000 points of sales. Those figures are darn impressive.
All that money must come from somewhere right? So they must be ripping everyone off with their watches, you say. Surprisingly, no. TW Steel watches are quite reasonably priced, with most of their range of watches in the low to mid 3 figures. And they're not skimping on quality either. Watches are made from 316L stainless steel and movement wise you're looking at either Japanese Miyota movements or Swiss Ronda movements. What they don't tell you is where the watches are made. And apart from their "Swiss Made" range, there's no prizes for guessing which country might be producing their watches.
Of course, the finger pointers will then point to the derivative style and accuse them of copying U-Boat, which produces overpriced (to some) canteen-style watches. But then again, perhaps they also, need to be accused of copying canteen-style watches from back in WWII? And besides, the canteen style is only one of the lines of watches TW Steel produces. Granted they're not breaking any new ground in design, but you have to admit that across their range of oversized watches they have taken on an identity of their own.
The design inspiration? U-Boat has the crown on the left so it doesn't dig into your wrist if you wear the watch on your left wrist...
Personally I feel that TW Steel has been very smart in making their marketing budget work smarter. One of which was picking up (presumably) cheap advertising space on the Renault Formula 1 cars after some unpleasantness with the team and then more recently, put their stickers on the Force India team (who also presumably were having a fire sale on their ad space since they need money). I think a good part of their success comes down to how well they have marketed the brand, and really pushed the brand into the general (hip) public's consciousness. If someone ever writes a book on TW Steel's rise to prominence, I want a copy.
Well, enough about the company. How about them watches, really? Well, they're known for their oversized watches and they are true to their words. What's normally a men's size is relegated to their women's range, and if you don't have the cohones (or the wrist) you'll most likely find it quite difficult to pull off wearing their watches. I really liked one of their tonneau shaped watches (looks like the result of a Richard Mille/AP Royal Oak Offshore Chrono... ahem.. rendez-vous) but even with its curved back it just felt much too big, and no, I did not have the cohones to pull that one off. However, a 50mm round canteen style watch I could do, and this is the watch we're looking at today.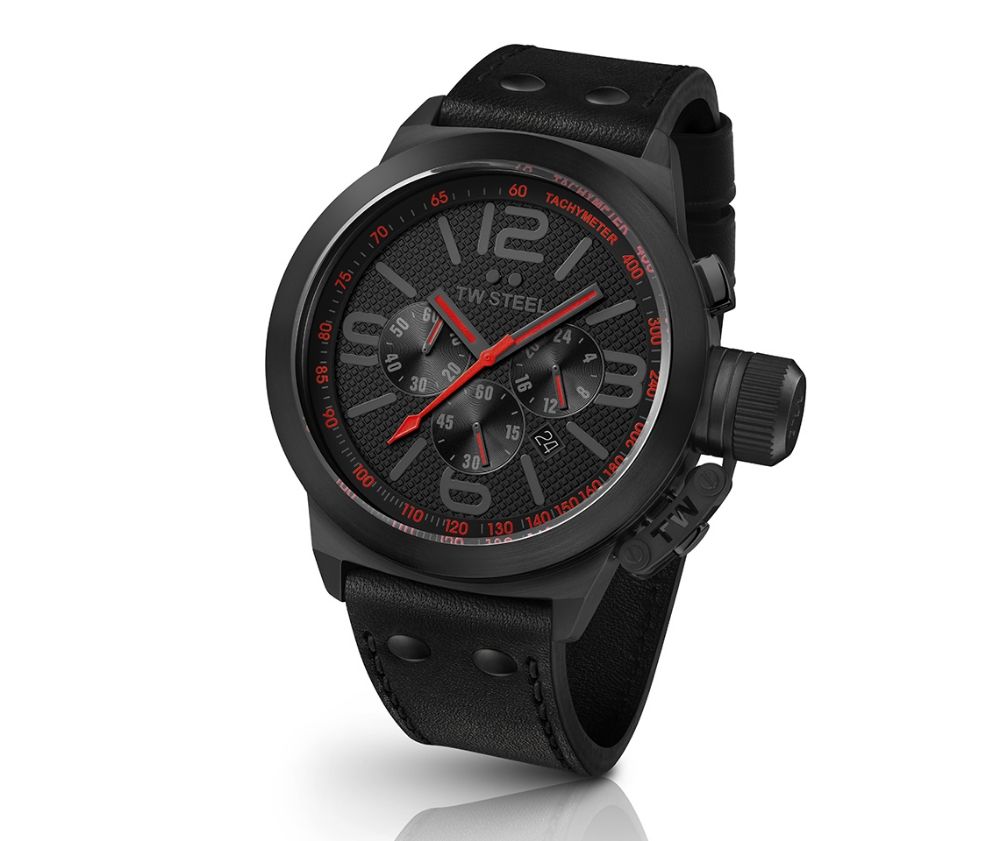 TW Steel Cool Black Colours - Red 50mm diametre
First, the negative. The massive crown kinda intrudes into the wrist (unless you're wearing this watch on the right wrist) and for your troubles, you get a tiny little crown with which to change the time and date. (That massive thing is just a cover. The actual crown is really, really tiny.) Good thing it's a quartz movement. I cannot imagine winding this thing up every day with that thing. This is only an issue with the Canteen line of watches. The rest of the range has a proper sized crown. The movement is also very small (well... the case is very big) so you have all the subdials of the chronograph kind of bunched in the middle. But the way the dial is designed, it's nicely balanced enough that you could forgive this little trespass.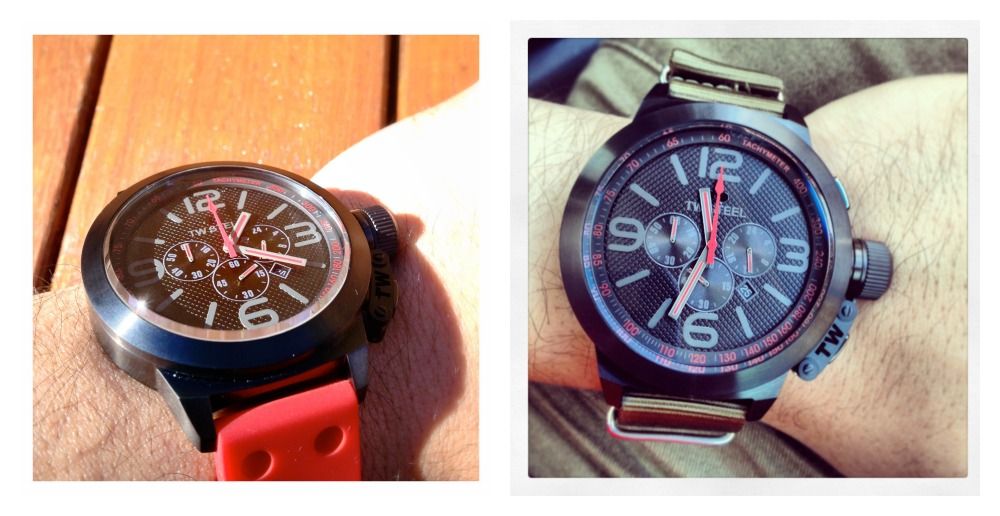 Other than that, the case has a nice heft and feels like quality. All the markings on the subdials are symmetrical, and the dates disc is thankfully the same colour as the dial. The black leather strap it comes on is soft and comfortable on the wrist, but I'd opted for a NATO style strap just to give it a slightly different look. The watch did come with a spare colour matched red silicon strap, but it looked... let's just say it does the watch no favours. The movement in this watch is a Miyota chronograph OS20, which is accurate and robust enough. And should anything go wrong, they're also cheap enough to replace, so no issues there. Case is in 316L stainless steel and water resistant to 100m.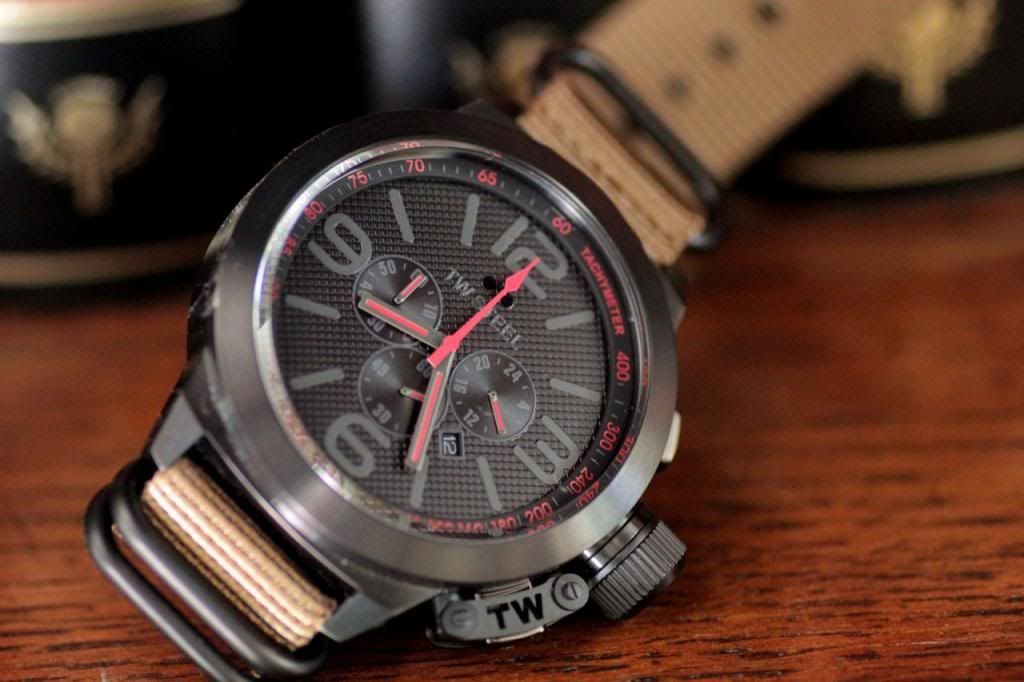 I find khaki coloured zulu strap with black PVD rings goes best with this watch
For the price, you do get literally a lot of watch for your money. It's a big, hefty piece and it's certainly not for everyone. But if you like the look and like big watches you could do a lot worse than a hockey puck of a watch on your wrist from the brand that's big in oversized watches.