Now here's an interesting watch. Well no. The watch itself isn't really that interesting. The mere fact that it exists is interesting. I'm not sure what the swatchgroup was trying to pull or what they were smoking when they came up with this idea. Or what their mental state is when the idea was approved... Am I being too harsh? Bear with me.
We all know that Calvin Klein licenses his name to various products. I have friends who insists that ck products to them are nothing more than undies and perfumes. But we're not talking about the breadth of ck's product offerings but just one of the licensed product line- wristwatches.
Ck watches are produced by the swatchgroup. I have no idea who designs them but doubt Calvin has any personal input. the whole line was designed on the philosophy of minimalism. Fashion watches with Swiss quality (ahem - we won't go into what constitute a Swiss made watch in this post) at affordable prices. It's worked well. I'm a big admirer of the designs and their quality at first glance shames other fashion branded watches at similar pricing.
I guess it worked so well that they decided to diversify. Out came a line of "cheaper" watches branded ck jeans. Quality I reckon is about the same as the main ck line but with a more youthful tilt. Hmmm. I mean ok the range is still priced well enough to appeal to their target market.
Their next diversification step I'm less sure of. Hence my comments regarding their mental state. For what I perceive to be ck's main target market, this range of watches is completely wrong. Let me tell you why. The "Calvin Klein Collection" is a range of 3 (fine, 6 if you separate the strap and bracelet variations) watches that are powered by various high-endish swiss mechanical movements, priced higher than that of their sister brand Tissot and Hamilton (both of whom have long watchmaking history and reputation) and have relatively higher quality than both, if not, at least equal to that of Hamilton's. Do you see the problem yet? (Ok - A quite browse on the CK website shows that the brand "Calvin Klein Collection" is their most prestigious and luxurious brand, but still...)
Your average ck client is not going to spend that kind of money on a Swiss mechanical ck watch. I don't think they'd even care. Even if they do, a Longines or a Tag Heuer might be more what they would be looking at for at the price range. Meaning there are plenty of established watchmaking alternatives. So that's price and positioning gone. Promotion? What promotion? I ain't never heard of nor seen this range of watches till I accidentally came across it at a local AD (authorised dealer). (I think Ralph Lauren is doing a better job flogging his top of the line watches) And even then some of the staff had had doubts as to why the boss even brought this range in. They suspect copious amounts of alcohol may be to blame. At the very least you CAN buy it, and it IS available. That leaves the product itself.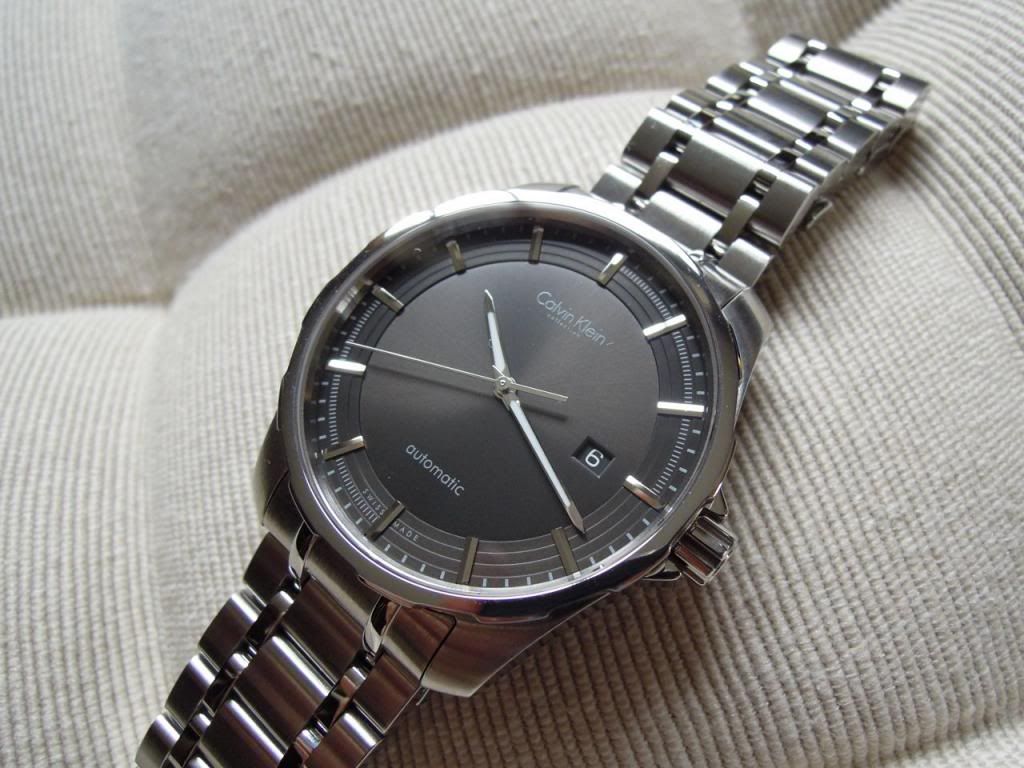 And the product isn't half bad I must admit. We here at Sydney Tarts are strictly non-discriminative when it comes to watches, and if you can ignore the name on the dial for the moment and just focus on the product itself, it's actually quite good. Let's break it down.
The case itself is very well made, with brushed and polished surfaces. I like a watch with a thin bezel and this one is about as thin as it gets. As a result the watch does wear a bit larger. The bracelet is solid with a pretty funky albeit fiddly clasp. I'm not a big fan of the bracelet as the design is quite generic and bland. For me as a rule of thumb I always get the watch on the bracelet as you can always swap it onto a strap. But in this case I'd say skip the bracelet. The watch looks a million times better on a strap.
The dial is clean and on certain angles you can barely see the brand, which can be a good thing. Some will say the dial would be even better if there's no date but I'm ok with it. It's the same color as the dial and it doesn't interfere with the overall balance of the dial. What really attracted me to this watch is actually the color of the dial. It's a wonderful shade of anthracite slate grey which you don't often find on the lower pricing scale. Some brands even keep this colour dial for their limited edition/boutique edition/white gold models. Apart from the colour, the concentric circles reminds me of the Omega DeVille Hour Vision. Something that costs 8 times more.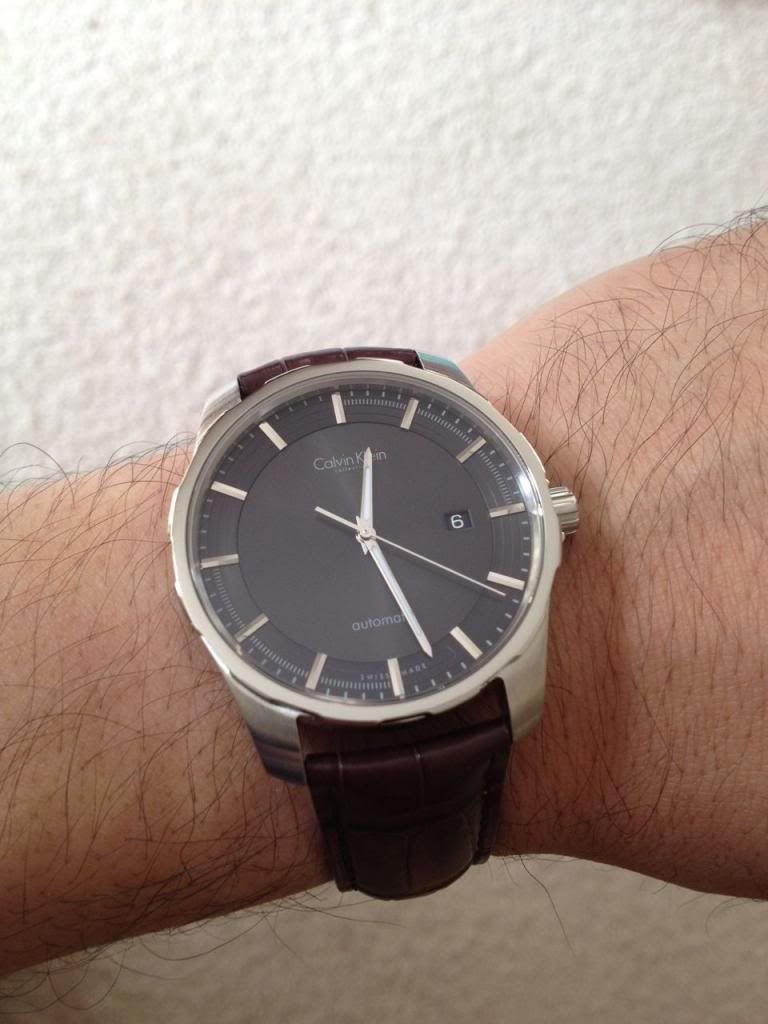 The case is thin enough given what's inside and it sits on the wrist well without protruding too much. Speaking of whats inside let's talk about the movement. Believe it or not it's the elaboree version (one step down from the chronometer version) of the venerable workhorse ETA 2824-2.
This is a better grade than what's found in Tissot. Doesn't mean it'll be more accurate since I have a Tissot with a basic 2824 and that kept time to within a second a day out of the box. The higher grade meant better materials and more decorations. Something you wouldn't be ashamed of showing with the see through case back.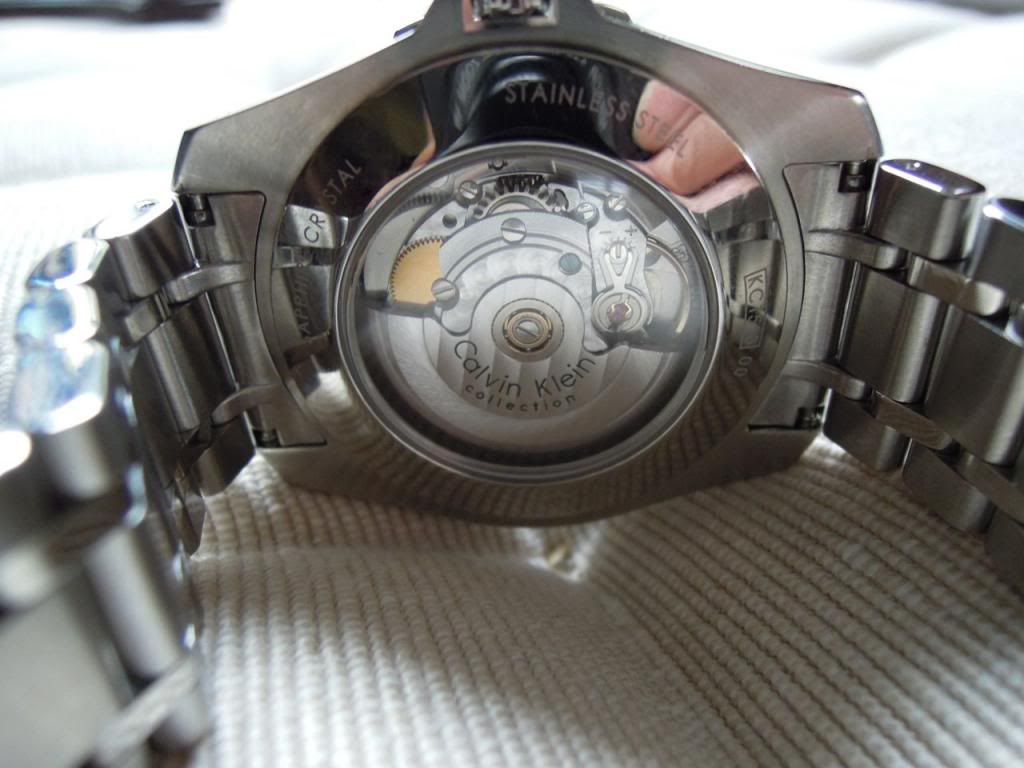 The other two models in the range are the second petite which uses the ETA 2895 movement, essentially the 2892 with a small seconds and of course the 7750 powered chronograph. I reckon the pick of the lot would be the second petite as in my opinion the movement is that little bit better than the 2824 but both are equally as reliable. The chrono dial is a bit busy and takes away from the minimalistic design language. The only criticisms would be a slightly bigger crown so it's not as hard to wind the watch (but if you wear it everyday you don't really need to worry about this point) and slightly longer hands (purely personal taste).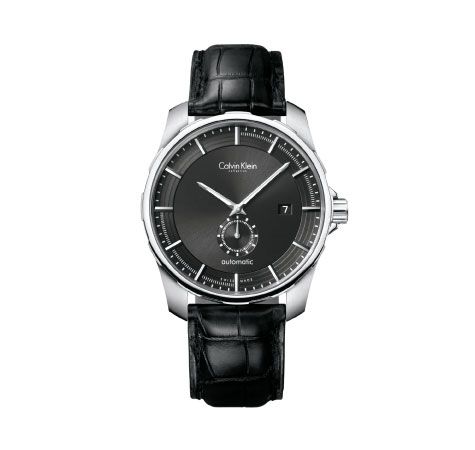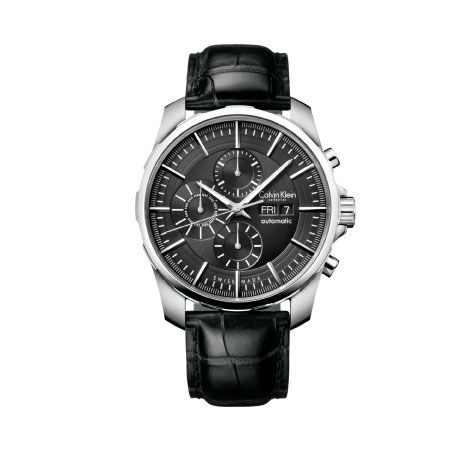 I mentioned before that pricing isn't great but that is only a recommended retail price. In fact the AD I found these watches in are doing a great deal on these watches *cough* 3 figures for the date model *cough* and this actually brings the price back into the equation. So if you don't mind what's printed on the dial and would like a good quality dressy watch with relatively good value for money, and something not every man and his dog has, you could do worse than consider a watch from the Calvin Klein Collection.