And I thought watching a cooking competition show like My Kitchen Rules would help me with more vocabulary to describe food. And yet all the adjectival phrases they ever seem to use are "cooked beautifully" and "cooked to perfection". That tells me absolutely nothing. If I told you in a review that the steak was cooked to perfection and the dessert was done beautifully you still wouldn't know how they tasted. the perfect steak for me might not be perfect for you. But then again these are chefs we're talking about. So I suppose there is only one kind of perfect in their eyes. But rant aside, here we go.
We haven't had much chance to eat out lately, and even longer since I've found a place worth talking about but this past weekend I have to say I was pleasantly surprised at a random place we found. It was the first cafe we came across on the particular day. We just needed a place to sit down and feed the baby, so didn't really care where we were. The cafe is inside Chatswood Chase, called Cicco Bar. I wasn't impressed at first because a) they didn't have any pricing on any of the food and b) I've always been a bit sceptical of this sort of in-shopping centre cafes and c) the chicken wrap I ended up ordering looked dry and d) the total for 2 coffees and 2 solids came to a fairly expensive 23 bux. (Suppose this could be considered normal for eating out in Sydney I guess)
What followed was indeed a pleasant surprise. The chicken wrap and the chicken pie came quickly after order was placed, presented well on a plate and heated. The chicken wrap had the chicken, obviously, avocado, tomato, cheese and lettuse. The chicken was anything BUT dry. As a rule I don't do chicken breast because it tend to be dry, but I don't know how they did it, but the chicken was moist, had proper flavour and the whole wrap was well balanced but light at the same time. The only criticism I could mount against the wrap is that the avocado probably needed another 2 days before it was served (not quite soft enough) but otherwise a great dish.
The chicken pie was also surprisingly good. The pastry wasn't too thick, and there are actual chicken chunks inside, rather than mince. The filling reminded me of chicken soup for some reason... A good solid portion which made the highish price a little more reasonable. Coffees were also nicely done. Not too much air on top, and delicate latte art topped each cup, making the overall experience quite surprisingly pleasant.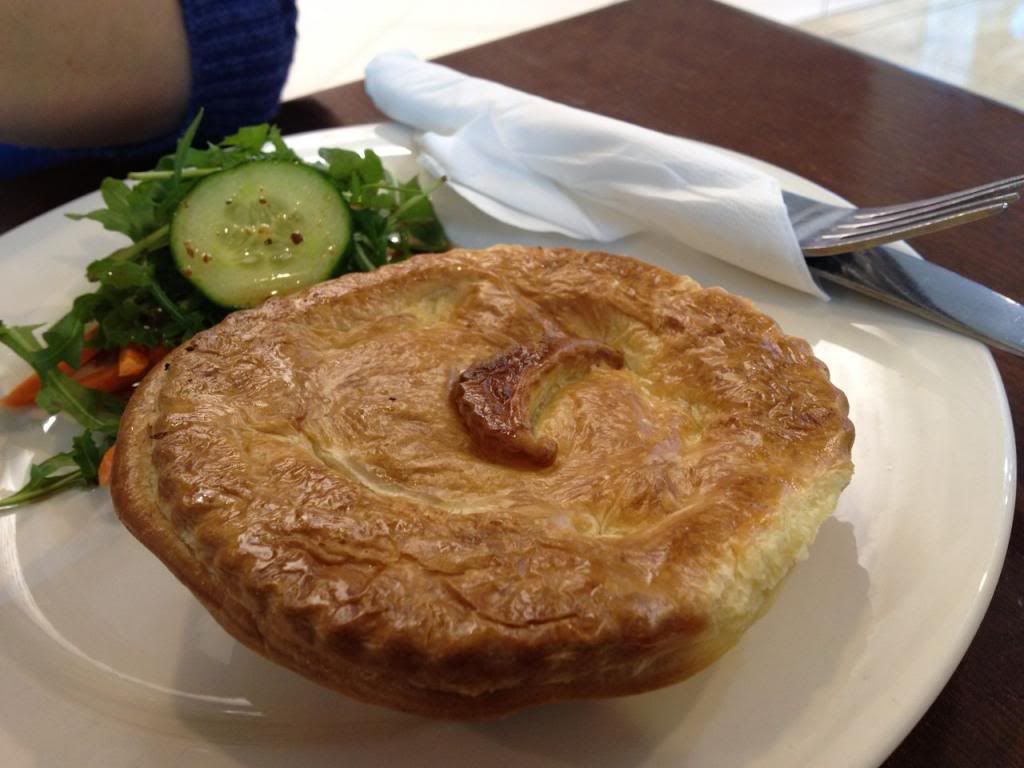 Coffee with obligatory wrist shot - the IWC GST Alarm.
Seriously, there's nothing worse than feeling ripped off, and then having bad food served to you. The fact that everything was *ahem* prepared to *almost* perfection made the whole meal that much more memorable, and remain so long after the price is forgotten. Glad to have found a gem, and let's hope this experience is not a one-off.