It is very entertaining observing the intra-company sibling rivalry that doesn't seem to stop. Round 2 involves the same 3 siblings of the Richemont group: Jaeger-LeCoultre, Piaget and Vacheron Constantin. Piaget as you might know wanted to hold the record for everything thinness category there is in the world of haute horlogerie. And they did have all the records (thinnest automatic, thinnest mechanical, thinnest minute repeater, etc) until Vacheron decided to spoil things by introducing the thinnest minute repeater watch late in 2013, pushing the total height down to a mere 8.09mm (compared to Piaget's 9.4mm in the Piaget Emperador Coussin XL, which was released in early 2013).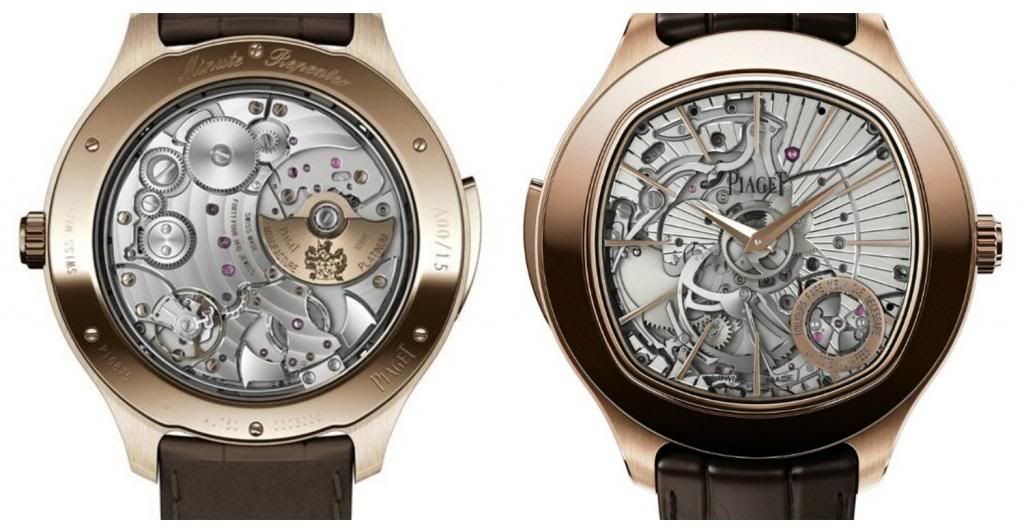 JLC, still reeling from having their thinnest mechanical watch record wrenched away by Piaget after such a short period decided that there is nothing like the sweet revenge of beating them at their own game (and dealing a double blow to Vacheron at the same time) and launched not only the world's thinnest minute repeater watch, but one with a flying tourbillon/flying balance AND a peripheral winding system to boot! Just as the thickness of the thinnest manual wind watch dropped quite significantly (in terms of percentages) the thickness of the ultra thin minute repeater watch dropped from 9.4mm to 7.9mm in just under 12 months. Sure is amazing what intra-group competition can do!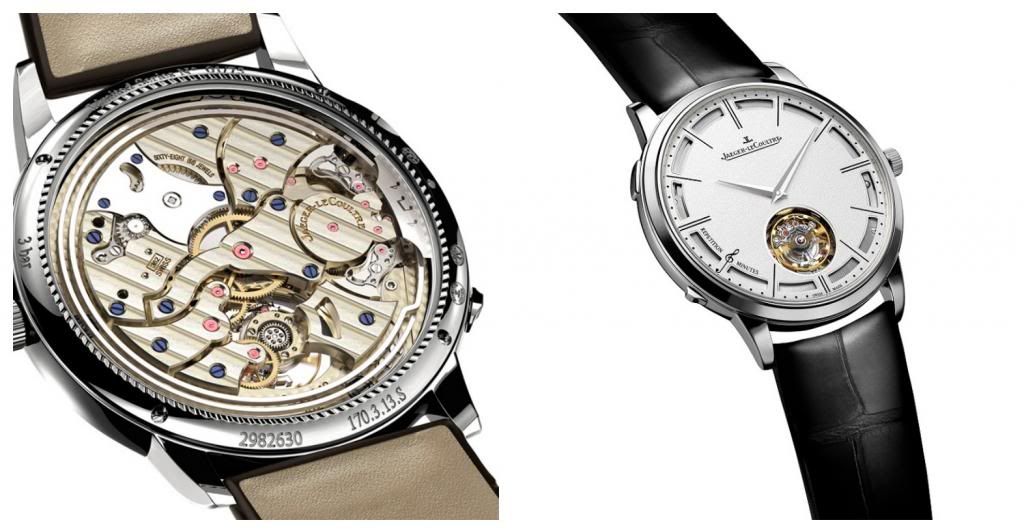 (Yes I realise that it takes far longer than mere months to plan/design/engineer/manufacture such amazing feats of craftsmanship and oneupsmanship but it makes for a much more entertaining read to pretend as if all this has just happened in real time)
I guess Vacheron can console themselves at still owning the record of the thinnest minute repeater movement (at 3.9mm thin) compared to JLC/Piaget's (at around 4.8mm each) but then again, the Vacheron movement is manual wound whereas both JLC and Piaget are both automatic movements.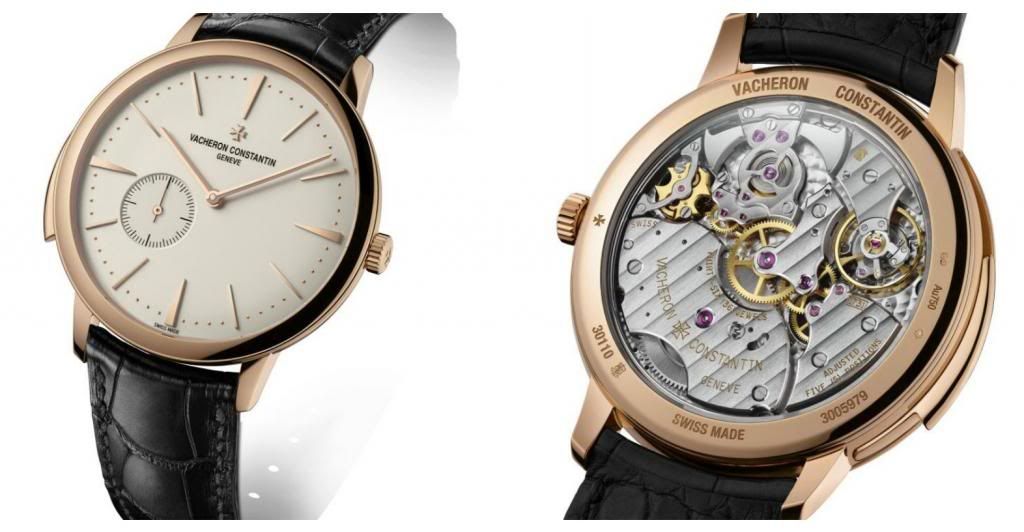 The Vacheron and the Piaget are both quite traditional in their movement design, whereas JLC pushed the envelop just that little bit more in order to cram in extra complications (just like Piaget did away with a separate movement and case construction in their quest for ultimate thinness in a mechanical watch and combined the two to make the watch one integrated unit). Rather than having a slider to activate the minute repeater, JLC instead opted for a pusher, which stays flush with the case after activating the minute repeater, and a separate mini slider to release the pusher if you didn't catch the time the first time 'round.
JLC has also removed as much as possible around the tourbillon to make it first of all, reduce the amount of space it takes up and second, to offer a completely unobstructed view of the tourbillon. Again, people have expressed concern at the fragility of a flying tourbillon topped with a flying balance, but I guess JLC's done their homework and made sure something like this will still be sturdy enough for everyday wear.
And finally, a peripheral winding system dispenses with a centrally mounted rotor (takes up too much space), instead a weight spins around the edge to wind the movement up. This idea is not new. The first patents to this system where filed in 1955 by Paul Gostel and a decade later by Patek Philippe. The first brand to offer this system in a serial production was Carl F Bucherer back in 2008. Subsequently numerous brands also presented their version sof the peripheral winding system, with DeWitt in 2009 with their Calibre DW8014, followed by Audemars Piguet with their Calibre 2897 in 2011, then in 2012, by Cartier (of all brands) with their calibre 9603 MC, even though they've not announced it as such, instead focusing on the design attributes (a bejewelled panther spins above the dial, but is in fact the 'rotor' for the movement). And finally, in 2013 with Breguet's Calibre 581DR, which currently also holds the record of the thinnest automatic tourbillon movement (that's another one Piaget needs to get back...).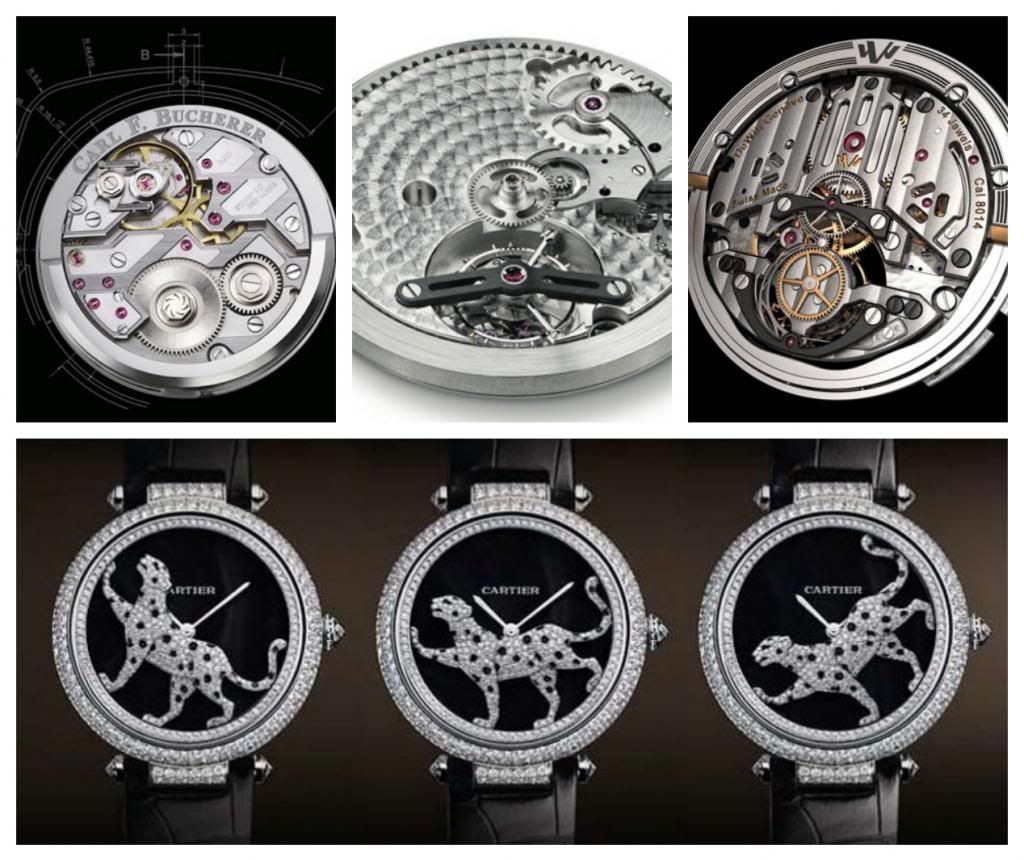 From Top Left: Carl F Bucherer, Audemars Piguet, DeWitt, Cartier. Breguet movement not shown because I couldn't find a brand PR shot.
Personally I like this strive for thinness. As Daniel Riedo, CEO of Jaeger-LeCoultre mentioned, that it is much easier to make a watch with a thick case, than it is to make it thin. It shows the capabilities of a manufacture, when they are able to make a watch as thin as possible, without all that dead space inside the watch. I salivate at the prospect of what could possibly come next! I wonder how much space the minute repeater takes up? If JLC got rid of it, could they challenge Breguet for the thinnest automatic tourbillon movement? Or does Vacheron and Piaget have something in the works already? Only time will tell and perhaps stay tuned for: The Quest For Thinness Part 3: The Whirlwind Timekeeper.